Apple, Alibaba, Microsoft, And Discount Retailers See The Biggest Brand Value Increase
In the tenth annual BrandZ most valuable global brands Apple has reclaimed its title of the world's most valuable brand, worth a staggering $247 billion according to Millward Brown, the head of BrandZ.
The tech giant triumphed in the annual top 100 most valuable global brands report, published on Wednesday. The report evaluated brand value by current sales of brands, financial data and the perception of the companies future potential.
"Apple is clear on what it stands for, and never stops refreshing its message to sustain the difference that makes it so desirable," said Doreen Wang, Millward Brown's global head of BrandZ, in the report. Wang and colleagues believe the iPhone 6 to be the main contributor of Apple's 67 percent year-on-year jump in brand value.
Apples smart phone competitor Google ranked in second place with an estimated value of $174 billion gaining 9% in brand value over the past year. Other strong risers included Microsoft with a 28 percent increase and Verizon with a 36 percent increase.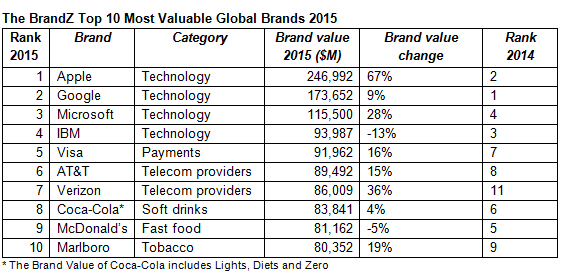 Looking at the global retailer rankings it was clear that discount supermarkets are seeing much better growth in comparison to traditional supermarket giants. Aldi moved up to the 8th most valuable global retail brand gaining 22 percent on last year trouncing its competitor Tesco who's value lost 37 percent lowering its ranking to number 12.
Tesco's brand value has been estimated at $9.4bn and has had a tough year of trading following questionable accounting practices and tough trading conditions. Its peer Carrefour declined by 12 percent to $8 billion while Whole Foods declined by -24 percent to a value just over $7billion.
The Brandz Top 20 Most Valuable Retail Brands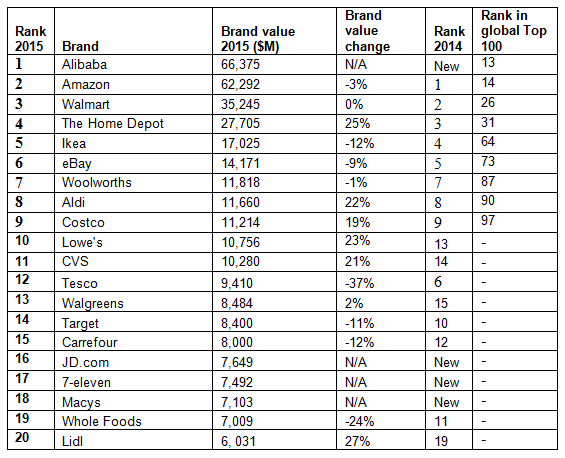 Alison Casey, Senior Client Director for Retail at Millward Brown said: "The discounters provide a great customer experience; they are relevant to cost-conscious shoppers with everyday low pricing and their smaller-sized store shopping format is more suited to today's 'small and often' shopper. Importantly, they have also articulated and clearly communicated what they stand for. Delivering on the brand promise is a critical component of success for all major brands and it's helping the discounters to build engagement, trust and loyalty with customers."
Alibaba, the Chinese e-commerce company reached a valuation of $231.4 billion on the stock market after its IPO last year and joined the rankings in 13th place becoming the most valuable retail brand with a brand value of $66.4 million.
The Brandz report can be found here.