Spread Betting Company IG Group Sees Trading Revenue Up 8.8%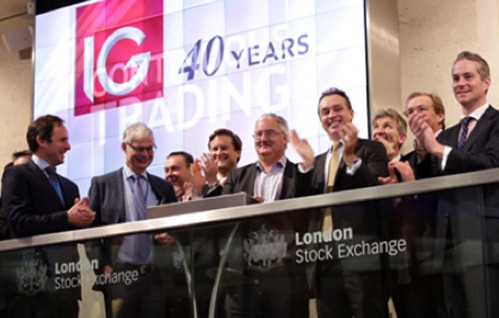 IG Group Holdings plc the company behind the financial derivatives broker IG on Tuesday announced its results for the six months ended 30 November 2015.
The company noted highlights including net trading revenue up 8.8% to £214.8 million whilst profit before tax was down 2.8% to £98.6 million. The company said they have a stable run rate of new clients with new customers ahead of the prior year by 35%.
Peter Hetherington, Chief Executive, said in the update:
"I am delighted to present my first set of half year results as Chief Executive of IG. The business continues to perform well and I am pleased with the progress on the strategic initiatives we are investing in to underpin the future growth of the Company. During my time here, IG has grown from a small phone-based UK trading company with around 25 employees, to a global leader in online trading with over 1,400 employees in 20 countries. But, as much as I am proud of the past, I am more excited about the future. Building on our strong operational and risk management capabilities, we are driving continuous improvement and value from the current business. At the same time, we are laying foundations for broadening the IG offering, to take advantage of supportive macro trends in financial behaviour, by leveraging the market-leading platform we have built."
IG noted an increase in operating costs as a result of their ongoing investment in growth initiatives, in addition to the "combination of higher betting duty and lower interest on client funds, resulted in a small reduction in profit before tax" which fell by 2.8% to £98.6 million in comparison to £101.4 million in 2015. IG indicated that its record revenue during the period was due to bouts of volatility in the financial markets which presented more trading opportunities for their clients.
Revenue was also ahead in all other geographic regions, the broker said the fastest growth came from "less mature areas" of Europe and the Rest of World. The UK and Australia also delivered improved revenue by 3.4% and 5.7% respectively, against a positive performance during the prior period. Revenue in Europe was up by 13%, with the majority of countries ahead of the prior year however boosted by a good start in Switzerland, despite the region being negatively impacted by a year-on-year weakness in the euro.
The brokers diluted EPS was down 2.5% at 20.91 pence whilst the company said it would be issuing an interim dividend of 8.45 pence per share, in line with the companies dividend policy.